For the whole series follow the generations tag.
Read and sign the experts' open letter to the Pew Research Center on generation labels.
---
One of the problems with the fake "generations" discourse is it confuses people on the importance of age (how old people are) versus cohort (when they were born). At any one point in time, these two concepts are measured the same way — asking people how old they are. But if you follow people over time, they answer two different questions. The first tells you how younger people are different from older people (for example, old people are more likely to die of heart attacks, because their hearts wear out as they age), while the second tells you how people's lives may have changed as they live them. So, young people today live in a world where their grandparents are less likely to die of heart attacks because of improvements in medicine, which changes the nature of childhood and then adult life as well. That's a cohort story.
One of the problems with the way the Pew Research Center reports on their polls is they usually survey people at one point in time (age), and then describe the results by "generation" (cohorts). Here's a figure they just published: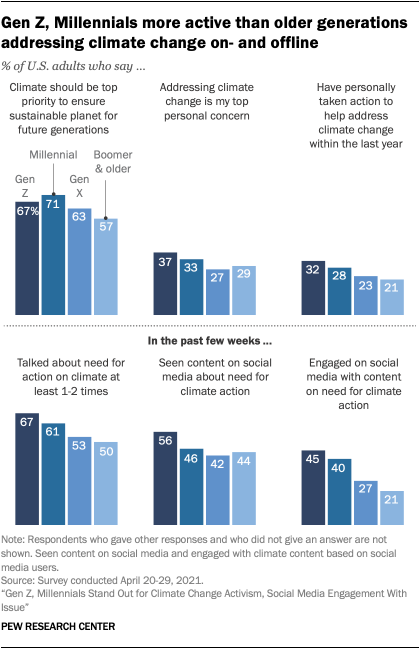 This seems to tell a clear "generations" story: "OK, Boomer," that story goes, "it's time to get serious about climate change." But why didn't Pew just title the figure, "younger people more active than older people addressing climate change"? You'd have to ask them their reasons, but their "generations" framing sure is popular. (Pause for outrage over the fact that, not only do the figures not tell readers the ages of these "generations," treating them as if they are obvious to everyone, but even in the text of the report, where they do mention in passing the birth years for Millennials and Gen Z, they never give the birth years for Gen X and Boomers.)
But what if it's not a "generations" (cohort) story, but an age story? How would you know? You would ask the same question to people over time, and see how their attitudes may have changed over the course of their lives. That's difficult and expensive, and besides the questions you might want to ask change over time. But you can come close by asking a random sample of people the same questions over time — something the clever sociologists behind the General Social Survey figured out 50 years ago, and they've been doing it ever since. In fact, the General Social Survey (GSS) since 1973 has been asking people, "are we spending too much, too little, or about the right amount on the environment?" (in another version of the question they added, "improving and protecting" before "the environment"; I use both questions). It's not exactly what Pew asked, but it gives us an idea. And that idea is: this is much more of age story than a "generations" (cohort) story.
Since the 1970s, between 70% and 75% of Americans under 35 have said we're spending "too little" on "improving and protecting the environment." (Note this age breakdown is arbitrary, using a common definition of "young adult.") It's not all an age story, though. Over time, this age gap has closed some, which means some of those pro-environment spending young people have grown into pro-environment spending older people — which is a cohort story. But you can't reasonably tell a dramatic "generations" story about "Generation Z" unless you compare them to people at the same age in the past.
That cohort story
Cohorts, and the life course perspective with which they are associated, are important, however. So telling the cohort story could be valuable. If you were going to tell that story, how would you do it?
First, you could look at survey respondents by individual year of birth, which is the most detailed breakdown you can get from the GSS. One problem with that is sample size. Breaking the sample up into 90 cohorts or so leaves you with as few as 21 respondents and no more than 1,200 for any one cohort who answered this question. The other problem is it's harder to interpret because you have a lot of data points.
Second, you could go with some generation scheme you import from another source, from conventional wisdom, or something that might get you more clicks. That might mean using cohorts based on political trends in general, or economic or demographic trends. That is, you could pick a category scheme from somewhere else and hope it's relevant to this analysis, too. This is the Pew approach. The crucial thing to do in this case, which is what Pew does not do, is acknowledge that you have done something either arbitrarily or based on theory, and that it might or might not be a reasonable fit to your data. Don't just assume they're the right categories and pretend no others exist.
Third, in the absence of a clear theory or other data to suggest a way to group individual years, you go with something "empty" and simple, such as binning them by decade of birth.
Fourth, you could try to use empirical methods to identify the best groupings from the data. If you're better at statistics than me, like Bruce Western and Meredith Kleykamp, you could do something like their "Bayesian Change Point Model for Historical Time Series Analysis" (free copy). Or you could use other methods, or eyeball it. I have experimented with this using a few different GSS trends. Based on variance explained, my very messy results have failed to do better than single years or decades, and done either better or worse than Pew's generations depending on how I do it. So for now I'll just show you the results from the first three options here.
Here is Stata code for what follows (and to cut the data by cohort and look for patterns in the variance explained by cohort, which I'm not showing in the post).
Using the three methods — single years of birth, Pew generations, and decades of birth — I made six linear probability models (OLS regressions with a dichotomous dependent variable), with one for each scheme with and without a set of demographic control variables: age (and age-squared), sex, race/ethnicity, region, and education. The main way I compare these models in the table below is with the adjusted R2, which is a measure of variance explained by the model, taking into account the number of variables used. Looking at the adjusted R2 for models 2, 4, and 6 shows that individual years explain the most (.0447), followed by decades (.0440) and then Pew's generations (.0437). These aren't big differences, but then the models aren't explaining that much of this trend altogether. (When I added presumably-endogenous measures for political ideology, political party identification, and church attendance, which are all correlated with views on the environment, I got this adjusted R2 up to .0874.) Note I only used people born from 1910 to 1999 (age 19 in 2018; GSS only interviews adults age 18+).
The linear probability model results are easy to interpret because the coefficients tell you how far each variable moves the average case from 0 (doesn't think we spend too little) toward 1 (thinks we spend too little). For example, in model 6, the average person born in the 1950s is 11.2% more likely to think this than someone born in the 1910s (controlling for age and the other factors).
So the individual-year model performs best, and Pew's generations perform worst. Here's what they predict for each cohort, again using models 2, 4, and 6, at the mean of the controls:
The single-year panel (A) shows the messiness of single years, as at the end of the series we have fewer and fewer cases — all the people born in 1999 in the GSS were interviewed in one survey, 2018, and they were all ~19, so we don't have much to go on; it's better to pool some of those years for more stable estimates. (You can also see that wider confidence interval for the Pew generations panel (B), where there are only 108 respondents in Generation Z in the data [born before 2000].) Still, you can see that the single-year panel suggests a mild wave, peaking in the 1950s, sliding for people born in the 1970s and 1980s, and rising again. Pew, which cuts the data at 1965, 1981, and 1997, mostly misses this — but it shows up in the decades panel (C). People born in the 1950s and 1960s were most likely to think we spend too little on the environment (65%), those born in the 1970s and 1980s a little less so (63%), and then those born in the 1990s spiked back upward to 68% (this last estimate based on 996 people born in the 1990s).
So, there are some interesting cohort trends here, captured worse by the Pew categories than by decades or single years of birth. Still, none of these cohort differences is as big as the simple age difference I started with. (If you add control variables to the figures at the top, the age gap remains 12% to 19%.) Young people have been, and remain, more likely to say we spend too little money on the environment. That's not a bad story.
---
Given its popularity, it's important to note the Pew model performs worst among these three. Of course, if Pew's generations were real things, clearly defined with respect to other social trends, associated with social identities, and with empirical research to support their relevance, it might still be justified to analyze this question according to those categories. (For example, even though we don't measure "race" perfectly, the variable as measured is associated with lots of important disparities and trends, and people feel affinities with their racial identities, so it's not wrong to look at something like attitudes toward the environment by "race," as commonly defined.) But the Pew categories are not justified in that way. Any cohort binning will show you something, especially for trends that are strongly patterned across time and age. But it doesn't follow that any common binning is the best — that's a question for research, research that hasn't been done.
So, to return to where I started: Read and sign the experts' open letter to the Pew Research Center on generation labels.
---
Full disclosure: I am an unpaid member of the General Social Survey advisory board. (And, like most people who say "full disclosure," I'm mentioning this mostly to impress you, and secondarily to disclose any potential conflict of interest.)