First, a response from Pew, then a partial data clarification on generations. In response to my Washington Post Op-Ed on generations, Generation labels mean nothing. It's time to retire them, Kim Parker, the director of social trends research at the Pew Research Center, published a letter that read:
Philip N. Cohen criticized the use of generation labels. Generations are one of many analytical lenses researchers use to understand societal change and differences across groups. While there are limitations to generational analysis, it can be a useful tool for understanding demographic trends and shifting public attitudes. For example, a generational look at public opinion on a wide range of social and political issues shows that cohort differences have widened over time on some issues, which could have important implications for the future of American politics.

In addition, looking at how a new generation of young adults experiences key milestones such as educational attainment, marriage or homeownership, compared with previous generations in their youth, can lend important insights into changes in American society.

To be sure, these labels can be misused and lead to stereotyping, and it's important to stress and highlight diversity within generations. At Pew Research Center, we consistently endeavor to refine and improve our research methods. Therefore, we are having ongoing conversations around the best way to approach generational research. We look forward to engaging with Mr. Cohen and other scholars as we continue to explore this complex and important issue.

Kim Parker, Washington
I was happy to see this, and look forward to what they come up with. I am also glad to see that there has been no substantial defense of the current "generations" research regime. Some people on social media said they kind of like the categories, but no researcher has said they make sense, or pointed to any research justifying the current categories. With regard to her point that generations research is useful, that was in our open letter, and in my op-ed. Cohorts (and, if you want to call a bunch of a cohorts a generation, generations) matter a lot, and should be studied. They just shouldn't be used with imposed fixed categories regardless of the data involved, and given names with stereotyped qualities that are presumed to extend across spheres of social life.
Several people have asked me for suggestions. My basic suggestion is to do like you learned in social science class, and use categories that make sense for a good reason. If you have no reason to use a set of categories, don't use them. Instead, use an empty measure of time, like years or decades, as a first pass, and look at the data. As I argued here, there is not likely to be a set of birth years that cohere across time and social space into meaningful generational identities.
Data question
In the Op-Ed, I wrote this: "Generation labels, although widely adopted by the public, have no basis in social reality. In fact, in one of Pew's own surveys, most people did not identify the correct generation for themselves — even when they were shown a list of options." The link was to this 2015 report titled, "Most Millennials Resist the 'Millennial' Label" (which of course confirms a stereotype about this supposed generation). I was looking in particular at this graphic, which I have shown often: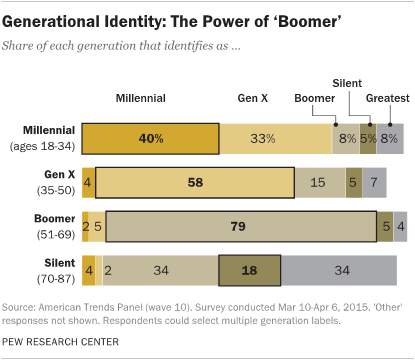 It doesn't exactly show what portion of people "correctly" identify their category, but I eyeballed it and decided that if only 18% of Silents and 40% of Millennials were right, there was no way Gen X and Boomers were bringing the average over 50%. Also, people could choose multiple labels, so those "correct" numbers was presumably inflated to some degree by double-clickers. Anyway, the figure doesn't exactly answer the question.
The data for that figure come from Pew's American Trends Panel Wave 10, from 2015. The cool thing is you can download the data here. So I figured I could do a little analysis of who "correctly" identifies their category. Unfortunately, the microdata file they share doesn't include exact age, just age in four categories that don't line up with the generations — so you can't replicate their analysis.
However, they do provide a little more detail in the topline report, here, including reporting the percentage of people in each "generation" who identified with each category. Using those numbers, I figure that 57% selected the correct category, 26% selected an incorrect category, 9% selected "other" (unspecified in the report), and 8% are unaccounted for. So, keeping in mind that people can be in more than one of these groups, I can't say how many were completely "correct," but I can say that (according to the report, not the data, which I can't analyze for this) 57% at least selected the category that matched their birth year, possibly in combination with other categories.
The survey also asked people "how well would you say they term [generation you chose] applies to you?" If you combine "very well" and "fairly well," you learn, for example, that actual "Silents" are more likely to say "Greatest Generation" applies well to them (32%) than say "Silent" does (14%). Anyway, if I did this right, based on the total sample, 46% of people both "correctly" identified their generation title, and said the term describes them "well." I honestly don't know what to make of this, but thought I'd share it, since it could be read as me misstating the case in the Op-Ed.